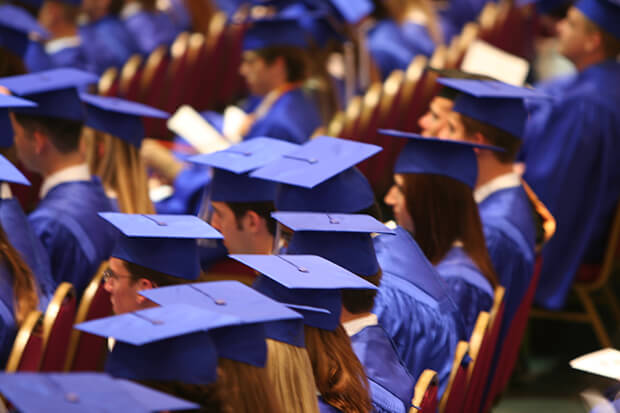 It's that time of the year for words of wisdom from around the campuses of America.
So let's start with President Obama at Rutgers University, who challenges all of us to stand up and defend our positions; his eloquence is clear and his focus sharp.
"If you disagree with somebody, bring them in and ask them tough questions. Hold their feet to the fire. Make them defend their positions. If somebody has got a bad or offensive idea, prove it wrong. Engage it. Debate it. Stand up for what you believe in. Don't be scared to take somebody on. Don't feel like you got to shut your ears off because you're too fragile and somebody might offend your sensibilities. Go at them if they're not making any sense."
---
Michelle Obama
at Jackson State University speaks to the future. She says, "I want you to honor the legacy of our past by your work on the future."
---
Reflecting on her recent tragic loss of her husband, Facebook CCO,
Sheryl Sandberg
wanted to remind all of us how important life is, she added "live with the understanding of how precious every single day actually is." A heartfelt reminder for all of us.
---
Anne-Marie Slaughter
is an international lawyer, foreign policy analyst, political scientist and public commentator, who wanted to talk to all of us about caring. She remarked, "Care is as important as career. … Career is investing in yourself. Learning, growing, and building on the education you received here. Care is investing in others. It is learning like a gardener, or a teacher, or a coach, what to do and what not to do, to enable others to grow and flourish."
---
Spike Lee
, American film director, producer, writer, and actor whose production company, 40 Acres and a Mule Film works, has made over 35 films since 1983 spoke of the beauty of the moment. Speaking at John Hopkins he said, "Now's the time to seize the day, take advantage of this unique moment in history, and build bridges amongst us. Talking about gender, race, religion, and nations, not walls. Let us build bridges of love, versus walls of hate."
---
Perhaps a presidential candidate of the future,
Senator Elizabeth Warren
, U.S. Senator for Massachusetts at Bridgewater State University states, "Don't be so focused in your plans that you are unwilling to consider the unexpected." A plug for a future election, perhaps?
---
Steve Spielberg
, American director, producer and screenwriter at Harvard University spoke of "empathy for every soul" and he added that, "to me, the only answer to more hate is more humanity. We have to replace fear with curiosity."
---
And finally
Oprah Gail Winfrey
, American media proprietor, talk show host, actress, producer, and philanthropist at Johnson C. State University shares with us that, "Every stumble is not a fall, and every fall does not mean failure. Know the next right move when the mistake happens. Because being human means you will make mistakes. And you will make mistakes, because failure is God's way of moving you in another direction." Well it's off to summer vacations and getting ready for graduate school.