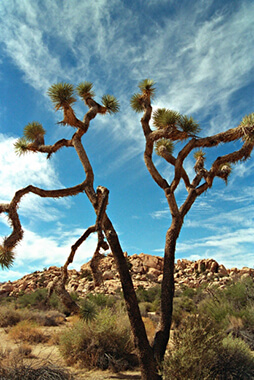 Joshua Tree National Park is one of the most beautiful and magical parks you will probably ever visit.
The park is home to the Joshua tree, and a throwback to the Pleistocene age. With more than 100 square miles of park, Joshua tree offers a unique look into a dessert landscape that is very exotic and quite alive.
The large boulders which give the park that amazing look are fun to climb and lends one imagination to all sorts of exotic ideas. Joshua Tree has more than 100 miles of trails and is good for a day trip or an overnight journey. The low fees make the park economical as well as fun for kids.
The park is good for short and long hikes, though in the summer it can get very hot. You can run up and play around the bizarre rock formations. Kids love the park, since you are allowed to touch, climb and run around. Remember no writing on the rocks or trying to move them. Rock climbers are allowed to climb and scale the many tall formations.
Pinto Culture
As the Pleistocene Epoch drew to a close ten thousand years ago, and the rivers of glacial ice melted, people lived in a very different location. The Pinto culture dominated the area and Lakes and swamps existed where no water remains now. Thick rich grasslands covered the plains, supporting mammoths, mastodons, horses, camels, and, in some areas, bison.
The large boulder formations which give Joshua tree that alien like landscape formed more than 100 million years. The magma which was cooling turned into monzogranite outcrops. Flash floods and further water erosion rounded out the edges of these enormous boulders.
Joshua Tree National Park comprises more than 1200 square miles (very large) the elevation varies from 536 feet at the lowest point (southeastern boundary) to over 5,000 feet at the summit of Quail Mountain. Last year Joshua tree had more than 2,000,000 visitors for the first time ever.
7-day pass
The park entrance fee is only $20 and this covers a 7-day period. So you can enter and leave and return over the next six days. There is no separate single fee. Since the park is so large, this six-day pass comes in handy especially if you have kids. It's fun to spend a morning or late afternoon in the park and then take a break and come back. Eighty percent of the fees go right back to the park. The fee for motorcycles, bicycles or walk on is also $10.
There are many inexpensive hotels to stay at, and you can even camp overnight in the park. For overnight camping, you should come early and claim a spot. There are numbered camping sites that you need to pay either $15 or $20. There are a few places that you can camp at but they sell out early so keep that in mind. There are a few spots with portable water but for the most part you will need to bring water to the park (2 gallons per day per person). Water is available at a few places around the park (Black Rock campground, Cottonwood campground, Oasis visitor center, Indian Cove Ranger Station and the West entrance)
Free Days
To help celebrate the 100-year anniversary of the National Park Service Centennial There are also free entrance days. These days are: January 18 (Martin Luther King, Jr. Day), April 16-24 (National Park Week), August 25-28 (National Park Service's 100th birthday weekend), September 24 (National Public Lands Day) November 11 (Veterans Day)
Joshua tree is located about 3 hours (about 150 miles) from Los Angeles and is reachable via CA-210 and I-10 E. Best to arrive either early in the morning or later in the day to avoid the heat. For more information, (www.joshuatree.org), or (www.nps.gov/jotr/index.htm).