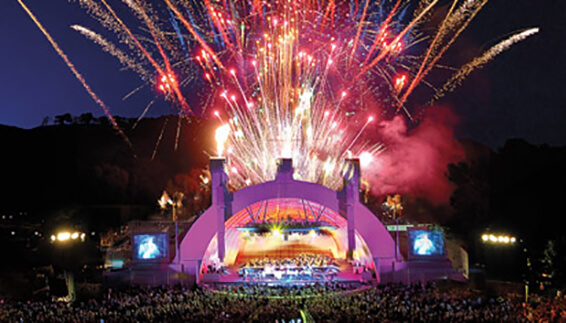 Looking for a fun place to go during the summer in Los Angeles?
There is no place better to go for a day vacation than The Hollywood Bowl. The Bowl offers a combination of both a beautiful outside venue and great music for those warm nights. So come and enjoy an outside concert with your favorite beverage or have a picnic in the park the surrounds the Bowl.
For more than 100 years the Bowl has been a focus of Hollywood summertime entertainment. Its enormous size and location makes it not only largest outdoor amphitheater in the country, but also rated as the best major outdoor venue. The Hollywood Bowl is home to both the Los Angeles Philharmonic and the Hollywood Bowl Orchestra. Music ranges from classic and Latin to Jazz and movie soundtracks. There are also many nights suited for kids, with special sing-a-longs.
Another really great thing about the park is the ease of seating and food. There are three main types of seating available:
Box Seats – Which are canvas chairs in groups of 4 or 6 surrounded by small walls.
Super seats – That are plastic stadium chairs with cup holders set in the center of the audience.
Bench Seats – Which start right next to the Terrace boxes and go all the way to the back of the bowl (there are large video screens to the sides which provide coverage no matter where you sit).

Besides the Amphitheater, the public park has more than 14 different beautiful picnic grounds with trails, hikes and trees. So you can come early, and have a picnic on the grass under trees and relax.
Great Food
The Bowl has several options when it comes to food (Lucques, a.o.c., the Tavern, and The Larder). You can even order dinner in advance and have it brought to you and served in your private box. The Bowl is located at 2301 North Highland Avenue, just off the Hollywood Freeway. Parking is limited. There are many park and ride locations with shuttles bringing you to the front gate. For kids 3 to 11 they might enjoy summer sounds, music and art for kids. It's a four-week art festival for children held each weekday morning.
There are also morning rehearsals that are open to the public. Call 323.850.2000 for the latest information
Here is a partial abbreviated list of some upcoming shows at the Hollywood bowl. For more information and to get a complete schedule with seating availability please go to www.hollywoodbowl.com
Incredible Music and Entertainment at Reasonable prices
The prices range from as low as $1 for a bench seat in the bleachers to $100 for an upfront box seat. There are some great ticket deals also including: Subscription discounts, buying tickets in groups of 5 or more groups, $10 senior rush tickets sold on Tuesdays or Thursdays. Call 323.850.2000 for availability or check their excellent website(www.hollywoodbowl.com) for additional information. Have a great time and enjoy the shows!